Genealogy Sites - FamilyTreeDNA
FamilyTreeDNA was based on the initial genetic testing that was undertaken in 1999 by Bennett Greenspan, a semi-retired entrepreneur and genealogy enthusiast.  His company FamilyTreeDNA (FTDNA) became  the first company in the US to offer direct-to-consumer DNA testing for genealogical research.
In 2006 FTDNA, now owned by Bennett Greenspan and his partner Max Blankfeld, bought out the assets of DNA-Fingerprint, a German paternity testing company that offered à la carte testing to the genetic genealogy testing community. With this buyout the company moved to Houston where they started the Genomics Research Center.
Gene by Gene subsequently became the parent company of the two investors, with FTDNA as its most important division.  Gene by Gene's most recent financial statements reported 175 employees and an annual revenue of $13 million.
FTDNA and its parent company Gene by Gene were acquired by myDNA, a Houston-based and Australian-owned genomics company in 2021.  The merger price has not been disclosed.
.
DNA Testing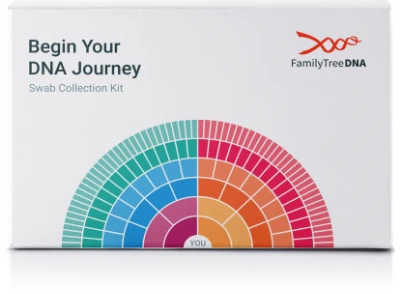 FamilyTreeDNA (FTDNA) specializes in Y-chromosome (Y-DNA) and mitochondrial (mtDNA) testing, which can trace your paternal and maternal lineages respectively. You can also take an autosomal test (Family Finder) that shows your ethnicity breakdown and matches you with relatives across all lines.  Its user database size is estimated to be close to two million.
The standard autosomal DNA kit for ancestry, the Family Ancestry Test, typically costs $80, less than what Ancestry DNA or 23andMe charge.  But the company's à la carte approach can add up and you could easily spend more than with these sites.  One such add-on would be a detailed analysis of maternal and paternal lineages.
.
How Does FTDNA Compare?  
FTDNA is experienced in this field, being one of the first companies into DNA-testing.  They are probably best for their matrilineal and patrilineal analyses which is far more comprehensive than those offered by 23andMe.  But you pay for it.
The FTDNA customer database is not that large compared to those of AncestryDNA and 23andMe.  But it can provide more matches and more quality matches in relation to its size than these larger companies.
However, their basic Family Finder test is not that remarkable.  Indeed FTDNA does not get very strong marks from its users here. Both AncestryDNA and 23andMe score higher marks for their ethnicity services.  And FTDNA, despite its name, does not give you the ability to construct a detailed family tree, as you can with AncestryDNA.
.
Alternative Views  
Some alternative views of FTDNA by Family History Fanatics are given in this video.
These are some comments from  customers:
"The Family Tree DNA website is not very user friendly. It does provide all sorts of great information on DNA and how it works, subclades, variants, and so forth. However, I have no idea after an hour or more of looking, how to download the results so that I can share them with Ancestry or with MyHeritage. I am hoping that the Ancestry website will make my new DNA test more available and useful."
"I purchased this as a gift for my sister who has a different dad than me. I was hoping she would be able to connect with family on her paternal side and figure out where that side of the family comes from. She was able to do both.
She found lots of new family members on her biological father's side and learned that his side of the family came from Germany! A total surprise given that we've always identified as being Native American (mom's side). If you're looking to find new family members who are still around and learn about your roots, this is the test for you!"
"The reason to test with FTDNA is their additional testing products. If you're a male tester, you can do additional Y-DNA testing which only tests the Y-chromosome. This allows the test to reach much further back in time.  They also have a chromosome browser to check DNA matches."
Customer Rating: 59% (average of Trustpilot and Amazon ratings).  FamilyTreeDNA ranks 5th of the 6 DNA-testing sites reviewed here.
.
Click here for return to front page